The Safari Browser is located on your Cell Phone at the bottom by the ICON that contains a Blue Circle with a white and red Pen object in it.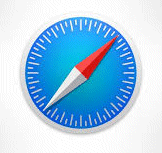 Press the Safari Browser Icon.
Clear out the top line of the browser of any information by deleting it.
Type in the URL for the website or search for the website you wish to create the Icon for.
Then Press enter.
Upon entering that websites home page.
Click on the object below the page at the bottom that has a rectangle object with an arrow pointing up through it.
Then Click the Icon on your phone that has a Rectangle with a Cross in it and the verbiage Add To Home Screen.
Then Click on Add.
That should create an Icon on your phone on your home page screen for that website.
If you need to create a link on your Android device, please click here.