Soon, the new Flying Together, which soft-launched in January, will become the one and only Flying Together. When that happens, the old Flying Together will no longer be available, and everyone will start using the new version of the site including the Travel tab. You'll see the new home page whenever you go to Flying Together – even on your mobile device, as the new site is mobile friendly.
If you haven't checked out the new Flying Together site yet, now is the time to familiarize yourself with it before it completely switches over (actual launch is scheduled for May 28). Use this link to try it: http://ft.ual.com
The new Flying Together is user friendly, but as with any change it may take a little bit of getting used to. It has a different look and feel, different navigation and some new features. Please note that the URLs and navigation on the new site are also different, so if you have any bookmarked pages, updates with new URLs will be needed. After the official switch, any links pointing to legacy Travel tab site and/or pages will not work.
You can learn more about the features and functionality of the new Flying Together website on the Next Generation Flying Together page. You can view a preview of the new site, or use the "Switch to new site" button on that page to set the new Flying Together as your preferred version, which will include the new Travel tab.
Comparison of legacy Travel tab vs. new Travel tab (image below):
Travel tab still located at the top of Flying Together (see red box). Click "Travel homepage" under Top hits to go to Travel page.
Pass travel related topics now located on the left inside IN THIS SECTION **you'll have to click on IN THIS SECTION to see the fly away menu**(see yellow box)
Pass travel systems such as employeeRES, myUAdiscount, other airline travel is now located on the left under Quick links (see green box)
Travel blogs and pass travel advisories is still located in the center (see purple box)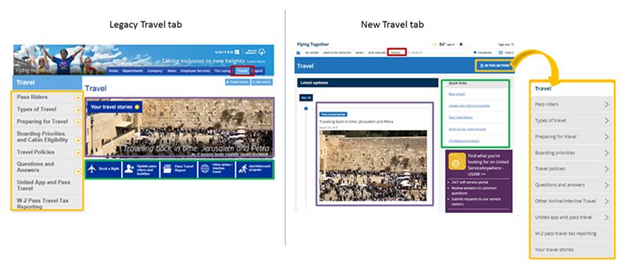 For more information check out: